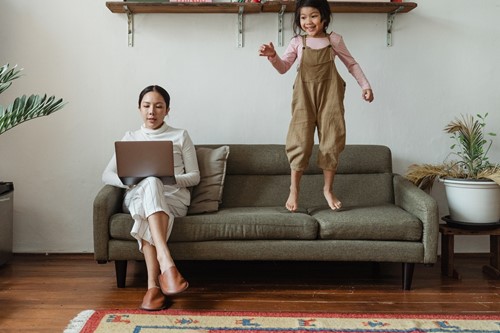 Photo by Ketut Subiyanto from Pexels

A home office can give you a convenient and productive place to work from home when it has the right design. Whether your home has a designated home office or you're turning a guest bedroom or other room into one, there are certain design factors to consider. The following tips can help you create a home office that provides a comfortable and inspiring work environment for everyday use or occasional use as needed.
Choose a Room with a View
If you're not sure where to put a home office, choose an area that has windows. Natural light can provide additional lighting while you're working, and having views of trees and other surroundings can brighten your mood. You can set up your desk in front of a window in your home office to maximize natural light and outdoor views.
Pick the Ideal Colors
The colors you decorate your home office with can have a significant effect on whether or not this space helps you focus enough to get work done. You should avoid choosing vivid colors that might create a busier or more hectic look, such as bright reds, since these can be distracting and make it harder to concentrate. Stark white colors might also be a poor choice if they cause too much eyestrain. Choose soothing colors that create a calming atmosphere, such as soft blues, light browns or soft greens. To inspire creativity, consider adding touches of color with an area rug or other accent pieces.
Set Up Storage
Having storage available is an important part of home office design. Storage solutions help cut down on visible clutter that might distract you while you're trying to work. You might choose open shelves that hold items you use often, so that you don't have to keep these items on your desk. You can put shelves up over your desk for easy reach or put a bookcase against a wall in your home office. In addition to practical items, you can dress up these shelves with personal decor, houseplants and similar items. For items you don't need as much, consider putting a storage cabinet in your home office.
Select the Right Furniture
You might not realize that a home office doesn't just have to include a desk and chair. Your home office can have a couch or an armchair, which you might use as a more comfortable place to read, for example. You might also need these additional furniture items if you have clients or co-workers come to your home office for meetings or consultations. Keep in mind that you can also set up your home office with more than one desk or workstation if you have another family member who works remotely. If your home office needs a couch or other additional furniture, make sure you choose items that match the rest of your decor.
Choose Inspiring Artwork
While it's important to make sure you can focus on work in your home office, you don't need to have a sterile environment. Putting artwork on your walls can make your home office more visually appealing while also inspiring your creativity, whether you work in a creative field or need to think outside the box to find business solutions. You might also want to put up travel photos, maps or similar items if you travel frequently for work.